Surf School
WELCOME TO OUR SURF LIFE!
Surf Life Tenerife is made of shiny happy people who share the pure vibes coming from surfing and nature.
COME AND JOIN OUR SURF FAMILY!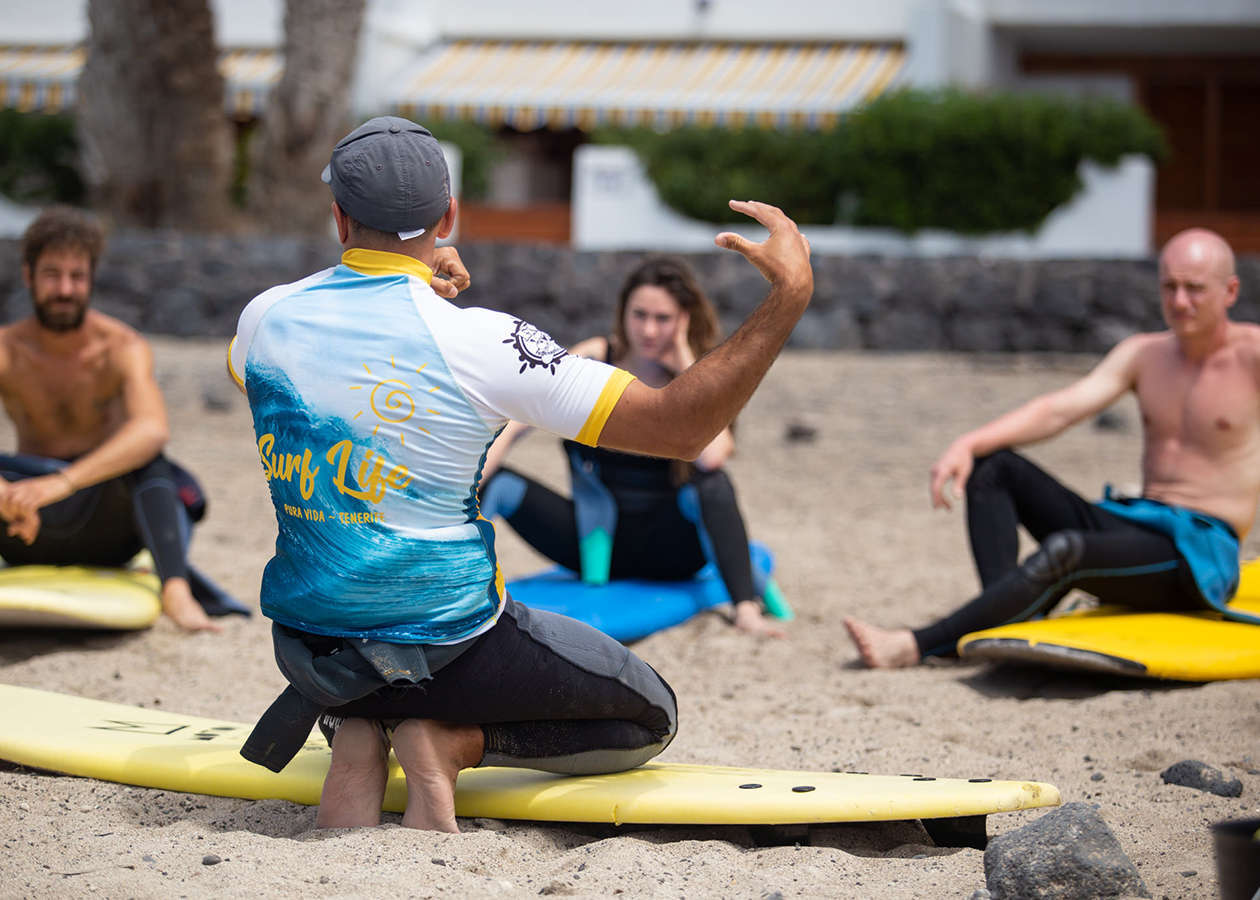 Maximun ratio of 1 instructor :
6 students
Each group surf lesson with Surf Life Tenerife has a maximum ratio of 1 instructor per 6 students. It is the best way to try our beautiful sport and keep on improving while also meeting new people and sharing good vibes! With beginners, our instructors never get into the water with a board, but always wearing flippers on their feet, in order to help our students to get to the line up – where we start paddling – and push them into the waves.
Kids can join group surf lessons starting from 14 years old.
We also organise group surf lessons for intermediate surfers!
Private Family Surf Lesson
3 to 5 family members
with private assistance for kids
It is the best experience to share with your kids! During the private family surf lesson one of our instructors will be fully available to ensure the fun and safety of kids and parents! The private family surf lesson starts from 3 participants up to a maximum of 5. Starting from 6 people, we will apply the same quote of a group lesson. Depending on the children's age, an assistant will get into the water to help out during the lesson!
The minimum age for kids to join the private family surf lesson is 7 years old. Younger kids can join the lesson but they will need a private instructor just for them!
Private Double Surf Lesson
Semi private lesson , 1 instructor :
2 students
One private instructor will adapt to your needs, whether you are moving the first step into our sport or you want tp improve your technique! The semi private surf lesson is recommended for:
couples

2 friends

a parent with a kid

2 kids together – one of them starting from 7 years old and the other one starting from 9 years old (if both kids are less than 9 years old, one private instructor for each one of them is recommended to ensure their safety).

Beginner – Intermediate – Advanced
1 instructor -> 1 student
Whether it is your first time and you want to learn it really fast, or you already have experience of surfing and want to have a teacher help you improve your technique, one of our instructors will be there for you. A 1:1 surf lesson is for sure the best way to get the most of your surfing experience.
Private Surf Lesson for Kids
starting from 5 years old
Surf is the best sport to learn when you are a kid! Thanks to their great balance skills, kids usually manage to stand up on the board very fast.
In order to guarantee your kid's safety, the surf instructor will always be behind the board to stabilise it and take control of it, if necessary. This also helps your kid to move backward and forward on the board and start to make the first steps for their future surfing.
Kids private surf lessons are open starting from 5 years old.
… and a lot of energy to paddle for the waves !
What it's like to surf with
Surf Life Tenerife
Every day we set the time of our surf lessons depending on when we can get the best conditions, considering the surfing forecasts and above all, the tide level. If your accommodation is located in the zone of Costa Adeje – specifically in the area from Callao Salvaje to Los Cristianos – we will come and pick you up with our van and take you to our surf school in Playa de Las Américas located 100 meters walking from the beach where we usually surf!
We get changed in the school, where we leave all our valuables in complete safety. We take the equipment and walk to the beach where we will start our lesson with a warm up session. During the technique session at the beach we will give you specific instructions depending on your level, in order to help you improve your posture on the board, the way you stand up and, hopefully, to do turns or advanced maneuvers.
In the water you will be able to practise under the instructions of our team of surf teachers, with over 10 years of experience of surfing and teaching. For beginners, we will stay in the first line of white water, where waves are gentle and easy to catch. For the most experienced, we will go to the line up where we will teach you how to catch green waves – before they break – get the direction and turn on the waves.
After the session in the water, we will be back to the school where you can have a shower and get changed before we take you back to your accommodation.
Even though the surf lesson lasts 2 hours, consider that for the whole experience with us you will need at least 4 hours, from the moment we pick you up until we take you back home!
If you are staying in the area of Costa Adeje, spefically between Callao Salvaje and Los Cristianos, you can book our transfer service. We will pick you up at your accommodation with our 9-seat surf van, take you to our surf school in Las Américas and take you back after the lesson.
While booking, select the ADD-ON "Transfer service from Costa Adeje", fill in your accommodation details and we'll organize everything for you!
The surf lessons usually take place in Playa de Las Americas, Arona.
Feel free to suggest a time!
However, conditions always change depending on the tide level.
We will try to fix the best moment for your learning!
For each type of lesson, you can check the timetable for the following days and book your spots directly through our booking system!
You can't find a session planned in the day in which you would like to come?
Are you a group or a large family?
Contact the Surf Life Tenerife Team for information on Surf Lesson Experience packages