Kids Surfing
What is better than seeing your kids play outside in the sun? Many of us remember the beach as one of our favourite places to play growing up. Chasing birds, playing tag with the waves and building sand castles. Yet, as a surf parent you can't deny the feeling that you want your kids out on a surfboard as soon as possible. In diapers or not. Maybe because deep down we all wish we had started when we were younger.
To make our dreams of raising our own little pro surfer come true, here we will share some helpful tips about at what age your kids can start surfing, what kids' surf clothes and kids' surfboards they will need and what a kids' surf lesson is like.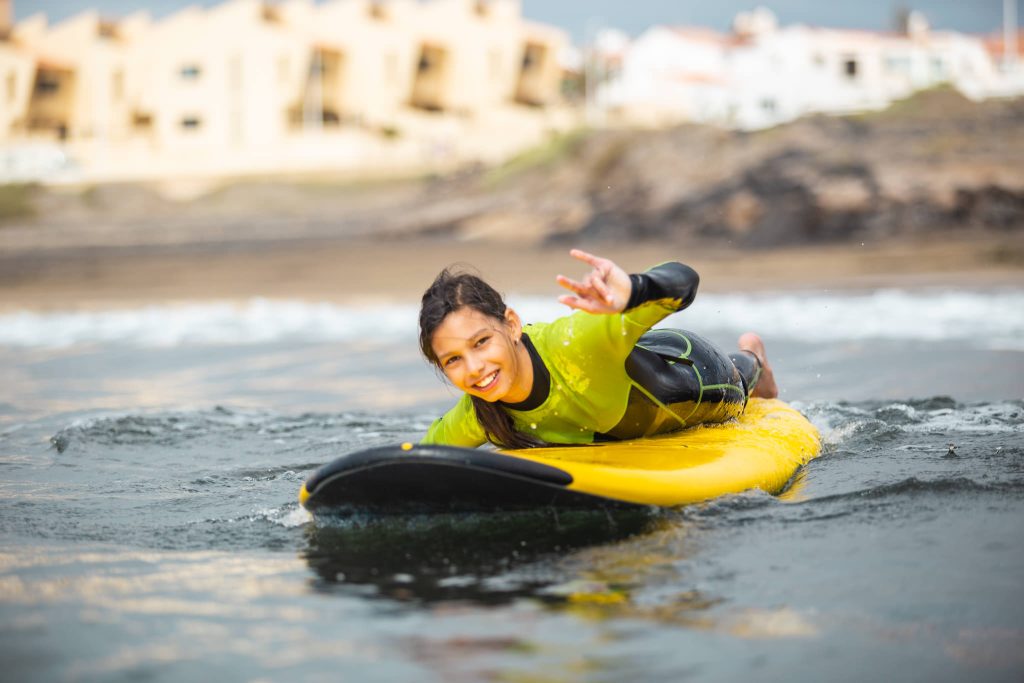 Credit Pablo Borboroglu photography
What is surfing like for kids?
The main goal of kids surfing is for them to have fun. They will never forget the feeling of catching their first wave because it truly is something magical. By making it all about having fun instead of focusing on riding perfect waves, the kids will have an exciting experience and likely want to try this beautiful sport again. And the best thing is, kids make surfing look so easy! They have great balance and, before you know it, they will be catching wave after wave.
Why should kids surf?
Apart from being fun, surfing brings many physical and psychological benefits for kids.
To start with, kids surfing is a great cardio workout. It is important for kids to have an active lifestyle to avoid health problems later in life. Standing up on a kids' surfboard also teaches them balance, coordination and flexibility. Not only will surfing make your kids better athletes, but also build their self-confidence both in and out of water.
Introducing your kids to surfing is more than just introducing them to a sport. Surfing is a lifestyle. Surfing promotes a set of values that they will bring with them for the rest of their life. Think about the connection with nature and nature conservation. As kids fall in love with riding waves,  they will want to protect their playground as they grow up. Finally, surfing serves as an emotional outlet for kids. They can release energy that would otherwise be converted into stress or anxiousness. Having your kids release some energy is also an advantage for you – they will sleep better! Meaning that you will sleep better, too.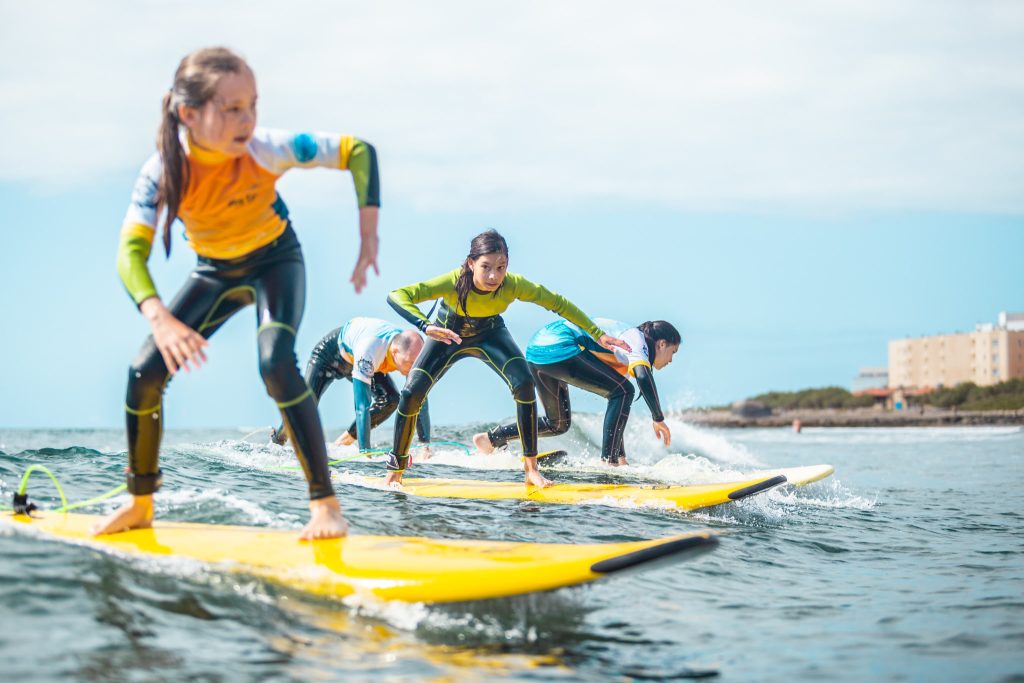 Credit Pablo Borboroglu photography
When can your little surfers start?
Whether your kids are 5 or 15 years old, surfing is fun for all ages!
As parents, you know your kids best and you can therefore make the best judgement when they are ready to face the waves. Yet, we will help you out a bit with what you can expect from a kid's surfing skills at the different age stages. Of course, every kid is unique, so take it with a grain of salt.
Kid surfer – 5 to 7-year-olds
From the age of five, kids can practise standing up on a kids' surfboard. At this age, surfing for kids is a game. It should be all about fun and gaining some experience in the ocean. For little kids surfing, there must be either an experienced surfer or a surf teacher with the kid at all times. So, one experienced surfer per kid or a private kids' surf lesson in order to ensure their safety. As kids don't yet have the strength required to catch waves themselves, they will need physical help to get enough speed. The best way to do this is by pushing the kid towards small white water waves. The kid's supervisor should hold on to the kids surfboard at all times to stabilise it in order to ensure a fun and safe ride.
Yet, the little kid might still be scared of the ocean at this age. Don't push them too much and let them experience surfing and the ocean on their own terms. After all, all you want is for them to have fun!
Kid surfer – 8 to 12-year-olds
At this age stage, kids can start seeing kids surfing as a fun activity, rather than a game. But, as you might guess, the word 'fun' is still key. By this age, kids are likely to already have some more ocean experience and they understand the concept of catching waves on their kids' surfboard. For this age category, the kids' surf lesson can be a private, semi-private or private family lesson.
Kids will have more arm/shoulder strength at this age to paddle into waves. Yet, they are still likely to need a small push towards the waves. Depending on their surf skills, kids can be pushed towards (small) white water waves or small green waves .
Kid surfers – from 13 years old
In their early teens, kids will consider surfing a real sport. At this age, kids have already gained some ocean awareness. They understand how to catch waves independently by paddling and they have gained enough strength to do so. It is possible for them to try to catch white water waves and green waves independently. Depending on the level of their surf skills, they might even be able to start practising steering on green waves to surf down the line.
At this age, it could also be possible to let kids join a group surf lesson. During these lessons, the teacher will help the kids find the right position in the water and select waves. If needed, they can still be guided into the waves as well. Of course, you can also jump in the water with your kids yourself or let them enjoy the sport with some friends. But, it is better not to let kids surf all by themselves. After all, safety first!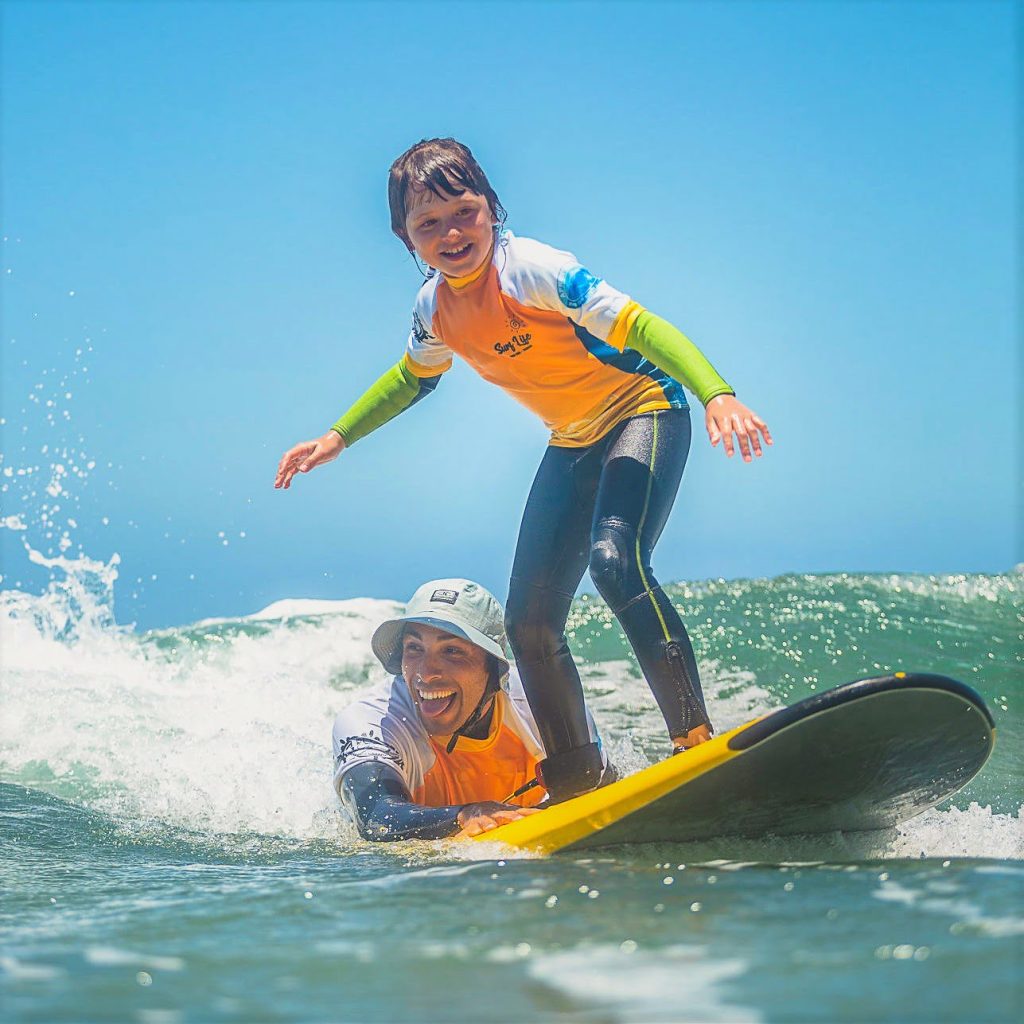 Credit Pablo Borboroglu photography
Baby surfing
< 5-year-olds
Is your kid younger than five years old? Don't worry, you can still introduce them to baby surfing!
A fun first step is to just take your kid to the beach. This is a super easy way to let your kid discover the ocean and get comfortable in an ocean environment. You can already start doing this when they are six months old.
Another easy and fun option is to just let your kids play with a kids' surfboard on dry land. This way they will start seeing a surfboard as a fun toy. Once they get to try it out in the water, they will already have a positive connection with the kids' surfboard.
From the age of two, you can also start introducing ocean games. There are classics such as 'chase the white water' and 'wave skipping'.  This is a fun way to teach them how waves work, without them even realising it.
Once your baby surfer can swim a little, you can take them with you on a longboard for the first time. Make sure the waves are small, let them wear a lifejacket, and they will have the time of their lives!
The final step before actually letting your little ones try out surfing themselves is to let them try bodyboarding. They can start catching their first waves like this from the age of three.
Are you curious to see what baby surfing looks like? Check out this video from HodgsonHawaii:
Kids' surf clothes
In order to start surfing, it is important for kids to have the right equipment.
The first thing kids will need is a kids' surf suit, a neoprene wetsuit that helps keep little surfers warm in the water. It also protects against sharp rocks and the sun. The wetsuit is supposed to fit tight to function properly. But it should never be too tight otherwise the kid  might feel uncomfortable, above all if it is the first time wearing it..
The required thickness of wetsuits depends on the water temperature. The higher the temperature, the thinner the wetsuit should be. Generally, this guide can be used for determining the thickness of the wetsuit:
–          4/3 mm wetsuits for temperatures between 15-19 °C
–          3/2 mm wetsuits for temperatures between 19-23°C
–          2 mm wetsuits for temperatures between 24-26°C
For kids surfing, always get the thicker option as kids get cold faster.
Depending on where your kids start their kids surfing experience, they might need surf shoes. Reef shoes are recommended for rocky sea floors, like the ones you find here in Tenerife.
In case of cold temperatures, there are also neoprene shoes, caps and gloves to keep the body warm.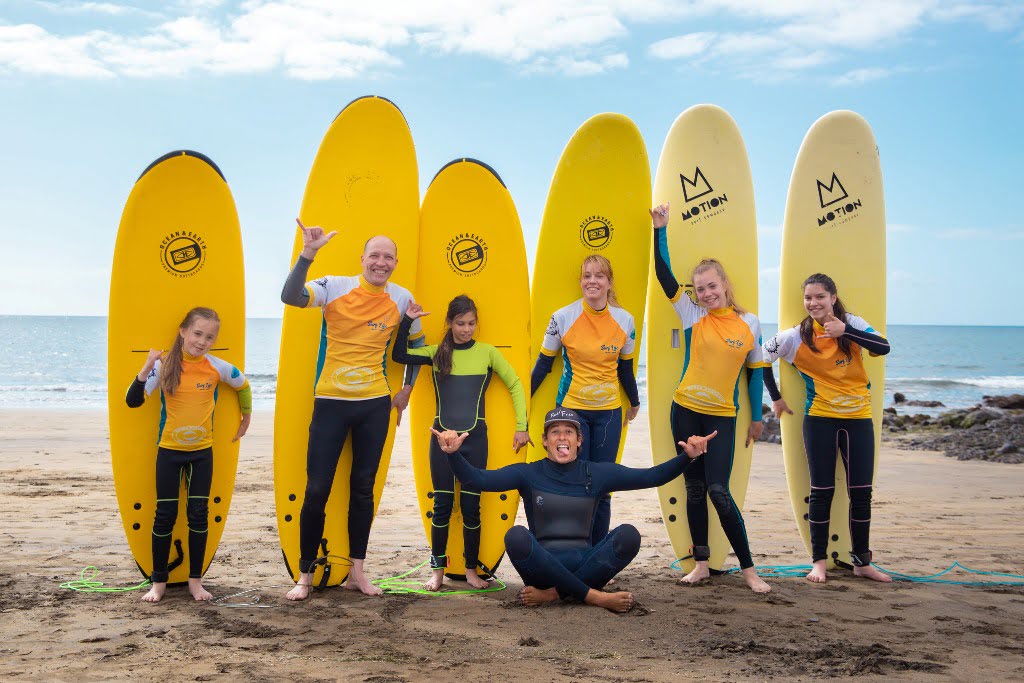 Credit Pablo Borboroglu photography
Kids' surfboards
Especially if kids have never surfed before, it is better to start with a soft-top surfboard. They have a high buoyancy which makes it easier to paddle and catch waves, as the boards are more stable and allow them to gain speed easily. Another advantage is that it is safer as the board is softer and the fins are more flexible than those of a regular surfboard.
The size of the kids' surfboard mostly depends on the kids' weight.
Always get a board that has enough buoyancy so that your kid can easily float and paddle with it. The heavier the surfer, the more buoyancy is required. This buoyancy, or volume, is expressed in litres.
The width of the board is expressed in feet and inches. The wider the board, the easier it is to keep the balance when riding waves. Yet, you should not buy a board that is too wide. After all, you want your kid to be able to paddle.
The same goes for the length of the kids' surfboard. A longer board makes it easier to catch waves, but you should not give a five-year-old a 9-feet board. A board that is way too big is impossible for the kid to handle in the ocean.
Even though the size of the surfboard largely depends on the size and strength of your kid, this general size chart from SurfboardsDirect.com.au can be used to have an idea.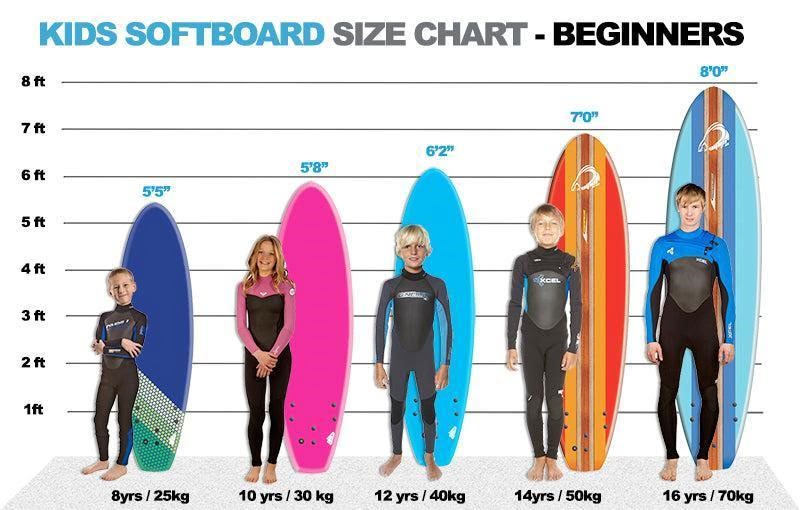 Once they are all geared up, there is one important thing left to do, which, of course, is to put sunscreen on. Now they are good to go for their first kids' surfing experience!
What does a kids' surfing lesson look like?
A fun and safe way to introduce kids to surfing is through a kids' surf lesson. The main goal of surf lessons for kids is for them to have fun.
To ensure the best experience, it is recommended to get a private family/ kids' surf lesson. Under the age of 12, it is necessary to get a private teacher per kid, to guarantee a safe learning environment.
The kids' surf lesson starts with some surfing theory on the beach where, in a fun and visual way, the kids will learn the basics of surfing. Once they have learned the new moves, it is time to do a quick warming up before entering the water.
Then, it is time for the big moment – the kids get to catch their first wave! The teachers will help them get in the right position in the water and gently push them towards a wave. If needed, the teacher can even stabilise the boards all the way to the beach to help them stand up.
From here on it is all smiles and high fives! Wave by wave, their confidence and smile will grow. Truly a day they will never forget!
Book your kids' surf lesson now
At Surf Life Tenerife, we offer amazing kids' surfing experiences for kids from 5 years of age. A great example is the private family surf lesson for 3 to 5 people. This lesson means fun for the entire family! Or you can even book a private lesson for your kid alone.
Our professional licensed surf instructors will teach your kids how to surf in a safe and fun way. Safety is the number one priority for all kids' lessons. Therefore, kids under the age of 12 need to be accompanied by a personal instructor who keeps an eye on them at all times and guides them on the waves. This way a safe and fun learning environment is ensured. The only thing left to worry about is having fun!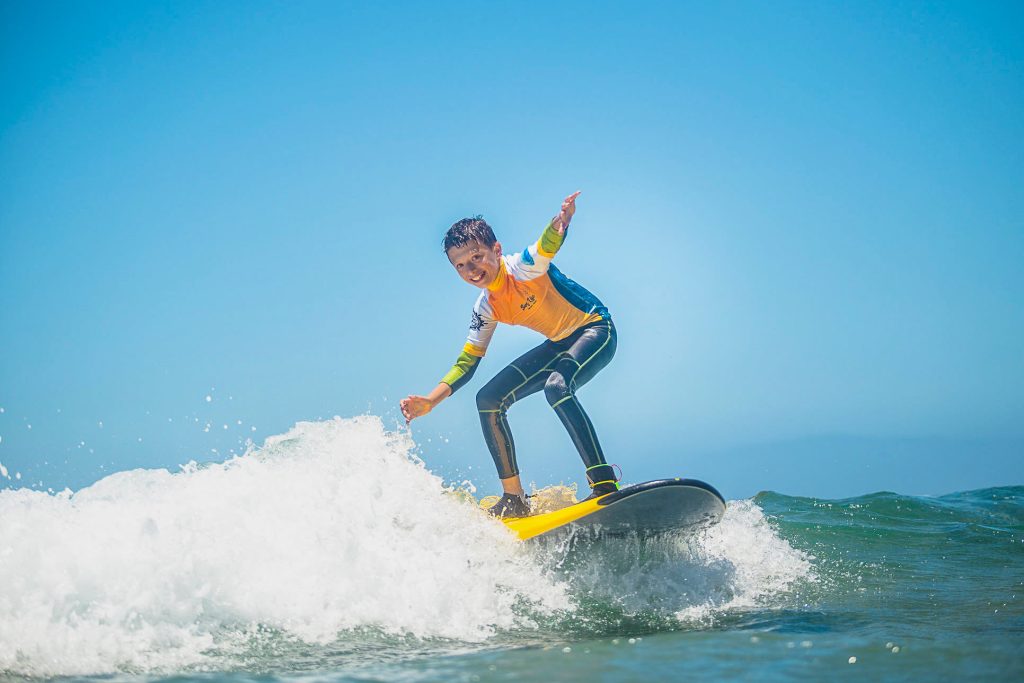 Credit Pablo Borboroglu photography
Maartje De Vreede
Are you excited for your kids to learn how to surf, or are you up to joining them? Book their first kids' surf lesson